As the debate rages about the delay in getting bushfire donations to where they're needed, a bunch of Aussie tradies are quietly stepping up to the plate.    By Rachel Smith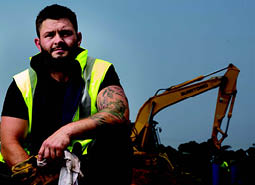 When carpenter Rob Johnstone pulled into the Victorian town of Buchan soon after the bushfires had blazed through, he remembers thinking it looked like a nuclear blast had gone off. "Imagine God had a gigantic bucket of liquid fire and upturned it over the landscape," he says. "The mountains went up, trees were scorched, houses were levelled, fences were burned to a crisp, animals were lying everywhere dead on the ground. It was absolutely horrendous."
Johnstone, who's ex-military, used his skills to jump into relief efforts early. He kicked off East Gippsland Community Support, a Facebook fundraiser that's amassed $25,000. Weekdays, he's on the tools; his weekends are spent mobilizing hundreds of tradies to do everything from building kilometres of fencing to ferrying supplies to towns in need. "I've heard so many stories," he says. "I've had the hardest men I've ever met break down in front of me. I met a guy who was returning bottled water because he felt other people needed it more; he'd been pouring it into troughs for his livestock. That guy stayed to defend and the fire took everything he had—and it threw him 20 feet in the air and burned the clothes off his back. They're the kinds of people I want to help."
Joining forces
Johnstone works closely with Tradies for Fire Affected Communities, a Facebook movement started by Melbourne-based carpenter Piers Smart. "I thought it was a great initiative and they've been an asset to us," he says.
At first, Smart admits his Facebook group was just "a pub idea that grew legs. I wanted to help with the bushfire recovery but I knew I'd just be a drop in the ocean," he says, "so I put out a call on Facebook to see if anyone else wanted to join me—I expected to get just 20 or 30 tradies!" That group exploded. It has 14,000+ members, while the registration website, tffac.com.au, has 6000 registered tradies on its list. The challenge, says Smart, is trying to get help to where it's needed and to manage the legal side of things, to protect trades and homeowners.
"I've personally never done anything like this and I'm learning on the fly— luckily I have a team working with me that have gone above and beyond to help bring this whole thing to life," he says, adding that the current website is soon to be replaced by a more sophisticated one that'll be a bit like 'AirTasker for fire relief', where you can ask for help, or register to help out. Smart stresses that his group and the tradies registering aren't interested in taking work away from local trades in fire-affected regions. "We hope our group will be a longterm service that could be rolled out in any disaster," he explains, "and we see ourselves as free support to local trades, to help get those affected back up and running a lot quicker."
Getting involved
Some tradies who've been in the epicentre themselves are returning to help too. Shane Williams, who has 20 years' construction experience, is one of them—he outran the New Year's Eve fires in Merimbula in order to get home to Canberra. "We were on our way home but when we arrived in Cooma that afternoon, it was like midnight," he remembers. "It was pitch black, there was sideways lightning bolts, it was raining ash. I hoped if we got to the Monaro Highway we'd be okay but we were doing 20kms an hour, wipers on, no visibility and fires building on both sides of the road."
Williams, who had his partner Rachel in the passenger seat and his three kids in the back, tried to stay calm but says at the time, he thought it was game over. "It's probably the most scared I've ever been," he admits.
The family made it home, but the experience affected Williams deeply. He joined Bushfires Emergency Accommodation to offer up his spare room, and now splits his time between work and helping with the recovery effort. "I've set up water stations for evacuees, I've helped a woman near Cobargo move house; that area is like a bomb site," he says. "I've been in Bredbo rebuilding fences and I'm going to Cobargo to do the same. My phone pings constantly with messages from people who need help." Government relief and donation money isn't getting to those in need fast enough, he adds. "I've seen a family with a nine-month old baby living in a tent who think they'll be in it for the next six months," he says. "And I've talked to people waiting on insurance from last year. That's not okay."
The power of the people
All three tradies we talked to agree the grassroots tradie movement is yet another example of our never-say-die Aussie spirit. "We're not affiliated with anyone and we're not bound by red tape, so we're able to act fast and get help to where it's needed," says Johnstone, who's hoping for more donated supplies from construction companies.
Smart's priority is letting people know they can ask for help and that teams of tradies are ready to hit the ground running. "A lot of affected people aren't online-savvy so our next challenge is to let them know we're there, and how they can engage with us," he says. Williams just hopes other Aussies heed the call to head to fire-affected regions. "So many people won't take handouts, but they've been through a lot and they need to talk," he says. "Visit. Have a coffee. Give them a hug and let them know there are lots of Aussies looking out for them."  
Find out more online at https://tradiesforfireaffectedcommunities.com/