A company with proud roots in Albury, New South Wales, is taking it's hand and power tools to the world.   By Cameron Cooper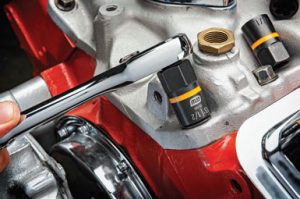 Most manufacturers would dismiss the prospect of bringing innovation to a seemingly humble product such as tape measures—taking the view that they really can't get much better. That's not the mindset, however, of the team at Apex Tool Group, one of the largest manufacturers of professional hand and power tools in the world.
Courtesy of its Crescent Lufkin brand, it supplies a high-contrast, low-glare tape measure with a black blade via the Shockforce Nite-Eye tape measure, which can be used in almost any lighting conditions. It is the only tape on the global market that can withstand a 30-metre drop test on to concrete.
The black-blade technology was first designed and made at the company's Albury plant in NSW. The Crescent Lufkin tape measures are also renowned for their accuracy and reliability. The brand has continued to evolve from traditional marketing means to a focus on digital and social media, with a humorous twist. This is witnessed in a recent laugh-out-loud digital marketing campaign promoting Australian-made tapes featuring media personality and former Aussie rules star Sam Kekovich.
"We're focused on continual improvement and innovation," says Kristin Viccars, marketing director of Apex Tool Group. "When you think that hand tools have been around for an extremely long time, the fact that we can still innovate our products is testament to our team."
Impressive history
The Apex Tool Group serves the construction, industrial, automotive, aerospace, electrical and owner builder markets. The business works collaboratively with distributors, retailers and customers to ensure that tradies and other users have the tools they need to solve real-world problems and projects.
Now with its global headquarters in North Carolina in the United States, Apex Tool Group draws from a proud history that began with the launch of the small business, Cooper Hand Tools, in Albury in 1971. Establishing a reputation for quality products and service, the business merged in 2010 with Danaher, a diversified American conglomerate that at the time had a strong tool manufacturing presence. The business was then purchased three years later by international private equity firm Bain Capital to form the global Apex Tool Group.
"That deal brought together a lot of great brands," Viccars says. He says the expanded group has opened up channels between hardware retailers, tool specialists and specialist sectors such as aerospace, counting Boeing and Airbus among its clients.
Reputation for quality
One of the great strengths of Apex Tool Group is its suite of world-class products. Its umbrella of brands includes Crescent, a premier hand tool brand best known for its adjustable wrench which now also features Crescent Lufkin (tape measures) and Crescent Wiss (cutting products such as scissors and snips) in its stable. The group also has the GEARWRENCH brand, a range of mechanical tools that is the go-to brand for professional automotive technicians, plus Weller soldering products.
In Australia, a key element of the business has been supplying hand tools to tradies and the wider building and construction sector. According to Viccars, a trend that started about five years ago towards cheaper, imported private-label tools and products has tailed off.
"The feedback we get from users is that there's been a real swing back to trusted brands and the inherent quality that comes from those brands," he says.
The Crescent brand's tagline –Trusted by the Trades –symbolises how Apex Tool Group is dedicated to providing great products that can help people do their jobs better.
"The tools are the primary opportunity for those workers to generate salaries to feed their families and livelihoods," Viccars says. "Getting the right tool to do the right job is critically important and that's where value for money comes in with regard to the longevity of the tools and less downtime for professional tradespeople."
Viccars says Apex Tool Group focuses on providing quality brands at a competitive price. It also embraces ethics and sustainability, including via a recycling covenant that seeks to minimise packaging and reduce the use of non-recyclable materials.
"That commitment extends to our warehouse and manufacturing processes as well to making sure we are striving for best practice in terms of sustainability and reducing our footprint in any and every way possible."
Bright outlook
While the coronavirus crisis represents a threat to all businesses around the world, Viccars is confident that Apex Tool Group's strong international standing and long Australian presence will help it repel any headwinds.
"I know we're resilient and that comes from having the Australian spirit in our business and supporting our customers through tough times," he says.
Being an Australian manufacturer with an 85-strong team that can ramp up production as required, having knowledgeable and long-serving staff, and drawing on close ties with industry groups such as CSS, will help the business.
"We certainly don't look to profit from unfortunate circumstances such as COVID-19, but we strive to help supply our customers and get that continuity of supply with Australian-made products so that there are no stock issues."
Viccars says the importance of Apex Tool Group's ties with CSS should not be understated and at all times it strives to be a reliable partner and supplier to the group. CSS first started in 2002 "and we've been with them from the beginning", he adds. An alignment of values and goals has been instrumental to the success of the relationship between the groups, which prides itself on being "available, accountable and providing value for money at all times.
"That really resonates with us as a supplier," Viccars says. "We've always maintained a very good relationship with CSS and we just want to thank them for their business and continued support. It's a really nice synergy."