Despite growing up with two parents who rallied, motorsport wasn't the first love for our first-ever female Australian Rally Champion.    By Liz Swanton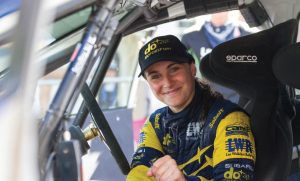 In a home crammed with reminders of what her mum and dad did for work and 'play', an infant Molly Taylor played with toy horses, not dolls—or cars. That is surprising, given Molly is the daughter of four-time Australian rally champion co-driver Coral Taylor, who calls the corners for Canberra's Neal Bates and the Toyota Australia rally team. Father Mark was a regular competitor at state and national level and also owned a rally school for a while. Hold that thought … Both parents remember Molly's passion as a toddler. Neither of them have any interest or background in single horsepower, but it was there from the beginning in their daughter.
"Mum tells the story of us going to the Bega Rally one year as a family, when I was very little," Molly laughs. "We stayed with Neal Bates' parents- in- law and they lived on a farm. We must have been talking about it on the way because mum said I immediately asked if there would be horses. Jane's dad Richard put me on a pony and apparently I refused to watch the rally—I just wanted to ride the pony all weekend, and that is pretty much what I did!"
Horsepower
From there it was weekly riding lessons. Eventually her parents succumbed to the begging and she got her first horse at 10. She honed her skills and the years went by. More horses, more training, more serious—she even went to a school where it was BYO-horse and riding on the curriculum. By now she was competing at national level and some form of equestrian future looked certain—until Molly turned 16 and was learning to drive. Remember how her dad owned the rally school? She was hooked. "I still had a horse, and I still loved competing but mum drove me to a show one weekend and I didn't do very well. While we were driving home, she said I had chosen two very time consuming interests and, if I was serious, I would have to give one up."
Much to everyone's surprise, Molly sold her horse to buy a car and started her motorsport career. There were club level events, then state rounds and eventually the national series. In 2006 she won her class in the state series; in 2007 and 2008, she repeated the achievement at national level.
World champion
What to do next? With dual citizenship in Australia and the UK, the answer was obvious. Molly headed for England in 2009 to tackle the British Rally Championship—that year she became the British Ladies Rally Champion, the first driver from outside the UK to take the title, and against some very stiff competition. She backed it up the following year before taking part in an international shoot-out against 16 young rally drivers from across the world—and won one of six scholarships to compete at junior level (FIA Academy) in six events of the 2011 World Rally Championship.
"It was the most amazing opportunity but a massive learning curve and a real case of jumping in at the deep end," Molly says. "They were the toughest events to do, and obviously even stronger competition and more pressure when they're international events. Generally that was the theme of all my years overseas but stepping up to WRC was another level. "Through all of those years, I had to grow up fast and learn how to be independent. Plus I had to find sponsors, put together a program and compete at the same time as being on the other side of the world from my family and normal comfort zone." She hustled as hard as she could, putting time, money and effort into the European Rally Championship (she was the ERC Ladies Rally Champion in 2013) as well as the WRC. In the end— like so many talented young Australian drivers trying to compete overseas—the inability to find large sums of money put a halt to her international dreams. Molly came back to Australia in 2015.
Like a legend
The national series called again, as did the opportunity—finally—to become a professional factory driver: Subaru Australia offered her the chance to spearhead the company's return to the local rally scene. A year later, and the 2016 title was hers—the youngest driver (at the time) to take the crown and the first female. "So very special. A long-held dream and something that I thought was further away in my career, so it taught me a lot about what is possible when you get all the right ingredients together. I will be forever grateful to Subaru, to the Les Walkden Rally Team, and to my then co-driver Bill Hayes, and it was simply amazing to share that with them."
She went into the year on a high, having been presented with one of the most prestigious awards in Australian motorsport—the Peter Brock Medal. It's awarded to the driver who has demonstrated similar characteristics to the legendary driver, including outstanding ability, a fair and sportsman-like attitude and a willingness and capacity to promote the sport in the wider community. "What an honour. Just incredible. It's hard to see myself as someone with their name on an accolade like that. I was overwhelmed to be selected. I think I read the letter 10 times before I believed it wasn't a mistake! "People ask why do you love motor sport, why do you sacrifice everything else? For people who haven't experienced the sport in any way, it's difficult to explain without them thinking you're completely crazy, which they usually do anyway! That's something Peter was good at, to translate that passion and energy he had for the sport and inspire so many people with it."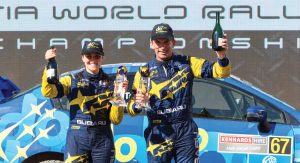 Racing dreams
Molly has managed to follow in those very large footsteps, and inspire many others in the process—especially young women—but the last two years have been challenging. She describes the 2018 season as a shocker, and finished last year in third, on a points countback. Then, just before Christmas, Subaru announced its withdrawal from the sport in Australia—and Molly began looking for the next opportunity.
"I still have a contract with Subaru Australia so I work with them on car launches, customer ride days and other events, so there is a lot going on with the brand but no rally team. That is sad, but I can't just sit and feel sad. My plan is to do some driving this year, racing and rallying, so I'm working on a budget and talking to people to see what I can put together, for here and overseas if I can make it happen."
Given what she has achieved so far, you wouldn't want to bet against her making those dreams come true.