Brad Millar, founder of award-winning BJ Millar Constructions, has had a lifelong commitment to quality and service. But he puts the success of his company down to the versatility of his hardworking team. By Shane Conroy
The Gold Coast construction industry is not for the fainthearted. It's a competitive, fast-paced environment that demands world-class quality. Substandard operators don't survive for long, and those that do are only as good as their last project.
Not many people know this better than Brad Millar, founder and owner of award-winning BJ Millar Constructions. His company recently won the 2020 HIA-CSR Australian Housing Awards 'Home of the Year'. It's one of the construction industry's most prestigious awards, and recognises the company's incredible work on the Cove House in Sanctuary Point.
The waterfront Cove House is a masterclass in subtropical architecture, and combines rich tactile elements with a seamless interplay between internal and external spaces.
INSIDE THE A-TEAM
The home is a spectacular testament to Millar's lifelong commitment to quality, but he's quick to share the accolades with the client, architect and his wider team at BJ Millar Constructions.
"Some of our team has been with us from the beginning, including our 2IC Warren Davis and my brother Paul (the Bear), who was the supervisor on the Cove project," he says. "Communication was so important to the project's success. The client was able to communicate their vision to the architect, and together the architect and the owner did an excellent job communicating that to us. Then my team was really able to run with it."
Millar's brother Paul was the project supervisor, and the company's crew of expert tradespeople went above and beyond to bring the concept to life. But it didn't come without its challenges.
"It took about 27 tonnes of steel to achieve the floating roof look," says Millar. "And because the concrete walls form a large part of the structure, we had to build them in the beginning and protect them for the rest of the construction. "We knew this was going to be an exciting project from the moment we saw the concept. It was a great opportunity for my team to show the kind of quality they are capable of producing."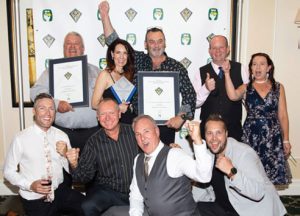 THE HARD YARDS
This commitment to quality has been in the making for over 40 years. Millar started the company in 1995 after completing an apprenticeship at his father's construction business and spending his early career working alongside his father and brother.
"We started the business with just myself and a couple of guys working out of my house," he says. "When we outgrew that, I bought a house on an acreage with a six-car garage for work, but the business swallowed that house up too."
So Millar decided to take the plunge on building a factory for the business. He rented out half the factory to help with cashflow, then when the tenant wanted to take over the entire factory, he moved the business to its current facility.
Today, BJ Millar Constructions employs a team of around a dozen that consists of four supervisors, a full-time cabinet maker, a plumber, a labourer and several carpenters.
RISING TO NEW HEIGHTS
The business has come a long way since its early days as a predominantly carpentry works business. Millar says the company's big break came when they won a contract to build a commercial kitchen and extend the ground floor of a high-rise in Surfers Paradise.
"That was a defining moment that took us from carpentry to contracting," he says. "After that we started to win residential renovations and other commercial projects." However, the business never lost touch with its more humble beginnings, and still services smaller jobs among the larger, more glamorous projects. In fact, it's this flexibility and no-job-is-too-small attitude that Millar credits for the long-term success of the business.
"It has always been a reasonably slow progression," he says. "We did a lot of insurance work for a while, and have gone through stages where that's faded and we've switched focus to building factories, for example. "It's a never-ending cycle, but diversity is our key. Even as we speak, we're doing a little commercial fit-out, and a small high-rise fit-out. Having capable, versatile tradesmen at our disposal who are prepared to turn their hands to anything has been, and still is, especially important for the business."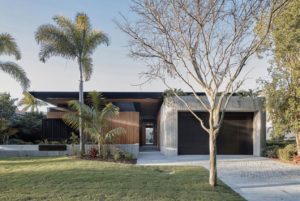 QUALITY COMES FIRST
It's the company's high-end residential projects that are winning it the most attention at present. The Cove House is just one on a growing list of many and varied architectural renovations, extensions and new builds. And there may be another award-winner in the works.
"The Cove House was actually our fifth project with that client," says Millar. "We have a great relationship, and there may be another build in the pipeline."
It's a case of 'watch this space' for now, but whatever is next for BJ Millar Constructions, you can be sure their commitment to quality will be at the centre of the project. "Our plan is to keep moving and evolving," says Millar. "We'll stay focused on keeping all our clients, staff and contractors happy and content, and of course will continue to stand by our product quality."