October is synonymous with the race that excites motorsport fans in Australia and beyond. Every team is ready for action.
By Liz Swanton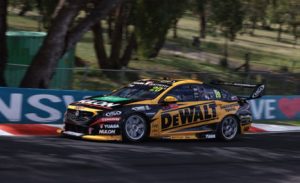 Charlie Schwerkolt remembers catching the Bathurst bug but he could not have imagined he would one day be playing to win.
The Queensland businessman who owns Team 18, was about six when he first went to Australia's most famous race circuit. Family photos show him perched on his dad's shoulders as Fords, Holdens and Studebakers did battle.
Now, with two ZB Commodores, solid backing from tool specialists DeWALT and IRWIN, and topnotch drivers Scott Pye (#20) and Mark Winterbottom (#18), he has everything crossed for 2021.
"Bathurst is our 'grand final', the biggest race of the year. It is the one you want to win. So we put in so, so much effort because we've never won it and we really want to, and because it is the race it is, we have as good a chance as anyone."
However, as much as he wants that win, Schwerkolt admits he is a 'handsoff ' person at Bathurst, at least as far as race strategy and management are concerned.
"If there are some really tricky calls to be made, I might get involved but my role is to empower my people to make their decisions and make it work, and I have good people. My role is looking after our amazing partners and the commercial aspects of the business."
THE GOOD GUYS
One of the 'good people' is Phil Keed, the highly experienced race engineer on Scott Pye's DeWALT Racing Commodore. Keed also has childhood memories of watching Bathurst with his father, although he didn't go to the race until he was a teenager.
"In 1988 we lived near Colin Bond's workshop. I knew I wanted to be in motorsport, so they let me sweep the workshop floor and things like that. Then they invited me to Bathurst as part of the team."
Bond and co-driver Alan Jones finished third that year, and the die was cast. Keed built a career in motorsport, initially rallying, here and overseas. He joined Supercars in 2003, working with racing legend Peter Brock, and learned that planning for Bathurst starts early.
"About six months out, our leadership team had a couple of casual meetings and worked through last year's problems and what we need to think about or start putting in place for this year. Then three months out we start to think seriously about everything."
Now, with just three test days per year, preparation is harder than in the past. The team aims to have one as close to Bathurst as possible, looking at what parts are necessary, drilling fuel stops and parts changes under more race-like conditions—especially brake rotors, as Bathurst is the only race where they are changed—and fine-tuning how race-day strategy will work. The real challenge is getting enough laps for the co-drivers.
"James Golding is driving with Scott, and Michael Caruso will share the IRWIN Tools car with Mark Winterbottom.
They're both excellent but there is never enough track time for co-drivers. It is a problem, because there are always differences between drivers and the way they like things set up.
"Some is personal preference and some are physiological things. It's not as simple as keeping the main driver happy and the co-driver having to suck it up.
The co-driver has to do a lot of laps; if they aren't comfortable, you can lose a lot more time than with your main driver making some small compromises."
THE DRIVER'S RACE
Scott Pye's first race at Mount Panorama was in 2012 as a co-driver before joining the main game in 2013. He has posted several impressive results including second in 2017 and 2018, and sixth last year with his current team. Like his colleagues, the love affair started in childhood.
"My dad always watched it. One of my early memories would be him cracking a beer at the start of the race and not leaving the couch all day. I love the race, the atmosphere, the build-up, the unknown.
"It's such a level playing field. Everyone has a chance because there are so many variables. You just need to get everything right on the day and not give up but there is only ever one winner so it either makes your whole year or breaks your heart."
For Pye, Bathurst preparation happens every day. No longer is it enough to step up the fitness routine just before 'the great race'. Drivers must be at peak physical fitness all year round.
"Where it changes for Bathurst is your preparation for hydration and nutrition. You have to be mindful of just how busy the week is, not just with the race but with all the other commitments, to make that a priority.
"We have a physiotherapist or a trainer with us to help us stay on top of those things. If you get distracted by everything else that is going on beforehand, it is easy to forget the things that are so important on race day.
"It's also important to take some time for yourself, and time with your crew, to make sure you enjoy it. It is a long day on Sunday and anything can happen, so it's important in the lead-up to stay as relaxed and positive as possible."
FOCUS
Pye finds the circuit more mentally demanding than physical. One error and you're out, so focus is vital. For other races, a driver's brain is 'on' for an hour or two; here, it is six hours or more.
"Another driver once said it's a bit like Christmas morning. Everyone wakes up excited but no-one is guaranteed a present. It is an emotional rollercoaster that week and quite tiring. We all have hopes and expectations but there are no guarantees, so I just try to keep my mind clear and relaxed.
"There's never going to be a smooth Bathurst. I'm fortunate that James [Golding] is pretty comfortable in the car, fi t and ready to roll. He was one of the top co-drivers last year so I think we can be strong. We're quick; we just need cool heads on the day—and we can buy a ticket to the end."