A business relationship between CSS member Ferntree Gully Bolts and Jayco plays a vital role in keeping their recreational vehicle production rolling.
By Kerryn Ramsey
Living through the COVID-19 pandemic has presented many challenges, particularly for those in the holiday and travel industries. With cruises and overseas vacations largely off the cards, many people are looking for a safe, affordable way to travel. Jayco has provided options for thousands of Australians to explore the country with its wide range of caravans, campervans and motorhomes.
Currently, Jayco is investigating ways for its vans to go off-grid using solar panels, lithium batteries and inverter technology. Campers will be self-sufficient, able to watch television and charge their phones, while visiting some seriously remote places.
"This technology will enable people to pull up and have a holiday wherever they see fit," says Scott Jones, Jayco's sales and innovation manager.
WORKING TOGETHER
In Victoria, another Australian company, Bolts and Moore, is doing its part to keep Jayco vehicles rolling off the production line. The owner of the company, Justin Moore, started Ferntree Gully Bolts 18 years ago. He opened a second store, Bayswater Bolts, seven years later and a third store, Hallam Bolts, five years ago.
"We're an industrial supply company with an emphasis on fastener-related products," says Moore. "All three stores operate independently but Bolts and Moore is the parent company. We employ 21 people across the three stores." Jayco started in 1975 in a cowshed in the Victorian town of Cranbourne. "That cowshed is still standing," says Jones. "I actually drove past it recently."
At present, Jayco has 1100 employees building 14,000 recreational vehicles each year. The company is still based in Victoria with its manufacturing facility sitting on 16 hectares in Dandenong South. There are multiple factories on site.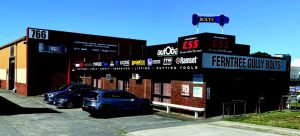 BUILDING A RELATIONSHIP
Since 2015, a business relationship between Ferntree Gully Bolts and Jayco has worked to the advantage of both companies, their employees and their customers.
"Jayco buys a few odds and sods off us but our most important deal is the supply of one particular type of screw," says Moore. "These screws attach the flooring to all their caravans and vehicles. I'm very proud that our product is in every Jayco vehicle."
The product is an eight-gauge screw, 4.2mm in diameter and 30mm long. They're designed to drill through timber and steel, so the two materials can be joined in one screw. It's an effective way to anchor the floor to the frame.
Ferntree Gully Bolts supplies between 50,000 and 100,000 screws every month. One of the unique features of these screws is that they are part of a collated screwing system used with a long screw gun. It means workers don't need to bend over or kneel while screwing in the floors. It's faster, more efficient, and once a screw is placed, the next screw automatically loads. Of course, this also has a great OH&S aspect, doing away with back strain and knee problems.
WORKING TOGETHER
This relationship between two proudly Australian businesses is nothing short of a win-win situation. Success stems from the relationship in a way that's mutually beneficial for all concerned.
"At Jayco, we pride ourselves in working with our suppliers to create the best outcomes," says Jones. "Our suppliers are constantly innovating and that helps us improve our efficiency and quality. It's just good business to support a local company like Ferntree Gully Bolts. We can rely on them and they're just a phone call or a short car drive away."
That's one of the biggest advantages of using local rather than international suppliers. If you need them on the ground to help out, they're there to support you. During COVID-19, using Australian suppliers circumvented many of the supply chain problems that plagued overseas companies.
"It's a huge benefit," says Jones. "A local supplier like Ferntree Gully Bolts will have stock readily available. There are short lead times in regard to deliveries. It has become painfully obvious over the past 12 months that lead times with shipping and freight from overseas has become longer and longer."
RELIABILITY, QUALITY, COMMITMENT
Ferntree Gully Bolts established a relationship with Jayco by supplying a niche product for a niche market. The success and longevity of the agreement is due to reliability of delivery, the quality of the product and a commitment to supply.
"I expect our relationship to last well into the future," says Moore. "We're in constant contact with Jayco, and the caravan market is pretty strong at the moment. While COVID has created a few problems in regard to staffing, we've successfully avoided any hiccups in our supply chain."
The Jayco future is bright with its vans and vehicles popular right across Australia and successfully exported to New Zealand. There's been a growth in customers in the 18 to 34 age group, and Jayco is popular among all types of tradies.
"Jayco offers great value for money," says Jones. "We deal fairly with our suppliers to purchase the best products, negotiate good pricing, and then pass that value onto our customers."
With advances in technology offering a whole new off-grid experience, the working relationship between Jayco and Ferntree Gully Bolts is well positioned to explore future demands and opportunities.