Rodeo champion Shane Kenny is a natural born cowboy. The 15-time All-Round Australian Champion grew up on the rodeo circuit and remains one of it's toughest competitors.

By Shane Conroy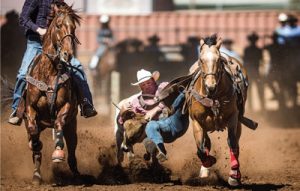 Shane Kenny was born into rodeos. His dad was the 1977 and 1978 Bull Riding Champion of Australia, and Kenny grew up on the rodeo circuit. In fact, he was competing against men before he even hit his teens.
"Back in those days there wasn't really any children's events, so I started competing in the open division when I was about 11 or 12," he says. "I was thrown in the deep end and it was sink or swim. But that's the thing about being a kid—you have no fear. It's only as you get older that you have to fight your mind."
Fast forward to today and Kenny has achieved just about everything possible in the sport. He is 15-time All-Round Australian Champion, 13-time Rope and Tie Champion, four-time Steer Wrestling Champion and four-time Team Roping Champion. He also currently holds the Australian record in the Rope and Tie and Team Roping events. But it's not just the titles that keep Kenny coming back.
"There's a lot of mateship among the cowboys," he says. "I can go pretty much anywhere in Australia and I'll have somewhere to stay and a place to let the horses out. Most people wait till they retire to travel the country. But rodeos have already taken my family and I to every state in Australia and to the US."
BUILDING A CHAMPION
Kenny spent his early childhood travelling the country on the rodeo circuit with his mum and dad before they settled in Mt Isa for his high school years. That experience sparked a lifelong passion for the sport.
"I was running around rodeos as a little fella, meeting all these great characters," he says. "I still get a kick out of pointing the old champions out to the younger guys and sharing a bit of the history of the sport."
Kenny's dad and two uncles helped him develop the skills and instincts he'd need to make his own mark on the sport.
"I originally wanted to be a bull rider, but I was six foot three or four by the time I was 14, which is too big for a bull rider," he says. "So I focused on roping and steer wrestling, and my uncles really helped me with my riding."
Kenny says that most successful cowboys grow up in the sport, as it's too difficult for many to learn as adults.
"You have to take it a millisecond at a time," he explains. "The first 100 times are just a blur. Then you start to develop the instincts and muscle memory, and everything begins to slow down. It's like any sport really. If I was to face a champion fast bowler like Glenn McGrath, I wouldn't even see the ball pass me. You have to build up to it over time."
A WAY OF LIFE
Except the rodeo isn't really like any other sport. There's an element of danger to it that can be impossible to control at times, says Kenny. "If an injury happens in football the referee can blow the whistle and stop the play. But that's not going to happen in rodeo. The rider is literally tied to the bull. There's no referee to step in when something goes wrong."
And Kenny has had his fair share of injuries. Two knee reconstructions, a dislocated shoulder, broken fingers and a horn through the mouth haven't been enough to keep him away.
"The shoulder has slowed me down a bit and I've retired from steer wrestling, which should extend my career," he says. "But my mind is still willing so I'll compete for as long as I physically can."
Even when it comes time for Kenny to hang up his stirrups, he'll still be a mainstay on the rodeo circuit. His wife Leanne was a successful cowgirl in her own right, and their three kids are taking on the family business.
"My daughter Ellysa became the youngest ever All-Round Champion cowgirl at 15, and my two sons, Tyler and Jayden, have both won junior Australian titles. It's our way of life really. Even when I'm no longer competing, I'll still get a kick out of cheering on the kids and the other young guys and girls as they find success." 
See Shane Kenny and around 600 other competitors in action at the 2021 Mount Isa Mines Rodeo on 12 to 15 August next year. Visit www.isarodeo.com.au for tickets.