Shared values and an ironclad commitment to service have been the foundations of a strong alliance between CPE Construction and Ultimate Fasteners.    By Cameron Cooper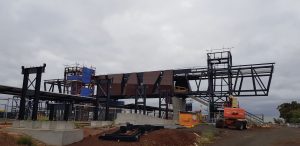 As the finishing touches were put to the Ballarat rail upgrade recently, two regional Victorian companies took pride in their part in the half-billion-dollar project. Cobram structural steel firm CPE Construction and Shepparton 'nuts and bolts' business Ultimate Fasteners made significant contributions to the assignment, which was led by Coleman Rail and Lendlease Engineering. The upgrade involved the design and construction of track duplications and passing loops, station upgrades at Rockbank, Bacchus Marsh, Ballan and Wendouree; a new train station at Toolern, train storage facilities, access roads and signalling upgrades.
Damien Guthrie, senior project manager at CPE Construction, says in many respects the rail job explains the company's success during the past 17 years. Initially providing much of the structural steel for construction work and overhead gantries, CPE Construction went on to pick up roofing and architectural cladding work across the various stations. "We've gone out there and provided a good service, and we've grown the scope of the job five or six times on our initial contract," Guthrie says. The job also led to a contract on Metro Tunnel, a metropolitan rail infrastructure project under construction in Melbourne, including work on a training centre in Chadstone that will educate workers about underground construction and tunnelling.
At CPE Construction's side during the Ballarat and Melbourne projects, and many more, has been Ultimate Fasteners, a provider of industrial fasteners, fixings, abrasives and tools. The company benefits from more than 50 years of combined experience in the fastening industry from directors Dean Jones and Mark Shanahan. With a team of 14, it primarily services Shepparton up to Deniliquin, across to Finley, down to Benalla and through to Yooralla and Seymour. After accidently joining the industry a quarter of a century ago—"I just thought I'd do this for a while until I worked out what I wanted to do, and I've never left"—Jones now relishes each day on the job. "I love it," he says.
Service counts
For about 12 years, CPE Construction and CSS member Ultimate Fasteners have worked together on a string of projects, culminating in the Ballarat and Melbourne jobs. They sing from the same hymn sheet when it comes to the key to business success—great service. Jones says Ultimate Fasteners has been built on the back of its customer service ethic. "Everything else happens from there. If you give them good customer service, they'll keep coming back." Such a philosophy has been critical on the Ballarat and Chadstone jobs.
Even though he is an industry veteran, Jones says the rail project exposed him to some new product requests, including the supply of different coloured fasteners to the norm—sable bass, sable brilliance and sable silver. "I'd never heard of those colours before. It was a challenge, but it was a good project." Jones is especially grateful for the chance to have worked on multiple projects over the years with CPE Construction. "They've been a very good customer of ours for 12 years. They are really good guys to work with. It's been a really great partnership and to see their business grow helps us as well."
The admiration is mutual, with Guthrie praising Jones and his staff. "We've just been getting closer and closer in terms of ties with them," he comments. "We use them because of the level of service they provide to us. And they align with our goals and what we try to provide to our customers."
Exciting journey
CPE Construction has come a long way since Damion O'Callaghan took over the business 17 years ago and later acquired sole ownership rights. Starting as a business that mainly built sheds, it has since expanded into a respected company that is known for its production of precision-fitted steel. It also offers a roof-plumbing service that streamlines construction jobs and saves time for customers.
Guthrie says in addition to work in the broader Cobram and Shepparton area, CPE Construction's team of about 35 people, plus an army of subcontractors, has won a steady flow of work courtesy of infrastructure projects in and around regional Victoria and Melbourne. "So the business is going very strongly," he says. Guthrie believes the company's ability to value-add by handling a multitude of jobs has been instrumental to CPE Construction's ongoing growth. "There's an element of understanding from customers that we know what we're doing and, if we don't know, we will find out."
Mirroring Ultimate Fasteners' focus, the other key factor for CPE Construction has been high service standards, with most work coming on to its books courtesy of repeat customers. Guthrie says customers have reasonably simple and understandable expectations—they want to be treated fairly, they want their contractual time frames to be met, and they want clear communication in the rare event that there are any delays or setbacks with a job. "Get those things right and the outlook will be positive."