In 2019, Austsaw introduced a new range of multi material saw blades onto the Australian market. The RaiderX multi-material blade was the result of two years of development work and involved testing blades from all major brands currently available on the Australian market. This development resulted in the RaiderX multi-material blade being capable of cutting up to 2x the life of similar blades on the market.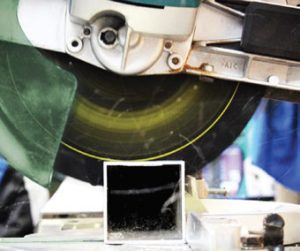 The aim in developing the RaiderX multi-material blade, was to achieve class leading performance, at a price affordable to every trade user. Each blade features premium grade TCT teeth precision ground to a triple chip design for controlled cutting, and an anti-friction coating which ensures the blade to runs cooler, extending the blade life and resulting in a clean, fast cut every time.
These blades were developed to cut a wide range of materials. Originally focused on cutting Aluminium, and then widened out to Plastic, MDF and Chipboard. Ultimately, we have found the RaiderX multi-material blade to be the most effective blade for cutting Composite Decking.
Composite Decking is rapidly becoming the most popular choice for outdoor decking in Australia. Durable and long lasting, composite decking is seen as the hassle-free alternative to traditional timber decking. Most composite decking is manufactured from a mixture of natural wood fibers and plastic or resin binders. When cut with a TCT circular saw blade, the presence of abrasive plastic and resin in the decking material contributes to a faster wear rate on the TCT teeth of the blade. Sharp saw blades are essential for working with composite decking products to maintain clean, smooth, sharp and accurate cuts.
In April 2020, Sheffield undertook a test using one of Australia's leading brands of composite decking – Trex. The RaiderX multi-material blade was chosen for this test, with the objective to prove its suitability and life expectancy cutting the abrasive composite material. 3000 cuts were made on a 255mm mitre saw, with the cut quality being checked every 100 cuts. After 3000 cuts, the RaiderX multi-material blade was still producing a perfect clean cut – as good as the very first cut, and we have no doubt the same blade would be capable of thousands more perfect cuts.
For a decking contractor, this will give the confidence that the RaiderX multimaterial blades will be a perfect choice for composite decking projects, lasting for many jobs and giving an extremely low cost per cut.