Ultimate performance driven by safety – The next generation Milwaukee Angle Grinders
For Milwaukee Tool, there is nothing more important that understanding the needs and daily challenges of professional tradespeople. This is why the company continuously designs solutions that improve the lives of their users by making work easier, safer, and more productive. Their next generation range of M18 FUEL™ Angle Grinders are no exception. The M18 FUEL™ 125mm Angle Grinder with Deadman Paddle Switch (M18FAG125XPD-0) and the M18 FUEL™ 125mm Braking Angle Grinder with Deadman Paddle Switch (M18FAG125XPDB-0) are the next advancement in power, fast cutting, and most importantly, in safety.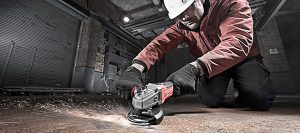 Milwaukee Tool is strengthening its grinder range by providing important safety features. Both M18 FUEL™ angle grinders offer E-Clutch with kickback prevention, designed to monitor performance and shut down the tool if an overload condition is detected. The M18 FUEL™ 125 mm (5") Braking Angle Grinder has RAPIDSTOP™ for fast disc braking in less than 2 seconds.
Users of corded grinders are often sceptical about whether cordless grinders can match cut speed and performance of their corded counterparts. The next generation M18 FUEL™ Angle Grinders deliver that power and speed while giving you the cordless benefits of being compact, lightweight and with a balanced design for comfort. Not to mention the Deadman Paddle Switch designed for easy manoeuvrability in various positions. With the broad range of materials that grinders are used to cut, users need to be able to get through most heavy duty material quickly and effortlessly.
While the lightweight, more compact design provides greater balance and feel compared to the previous generation of Milwaukee Angle Grinders, it also gives users an extra 5G per minute of steel removal compared to the previous model, demonstrating Milwaukee Tool's ongoing commitment to product innovation. Users have begun to heavily rely on their cordless tools out in the field and being able to get through their day without needing to change their batteries is important for their productivity. When paired with the M18™ REDLITHIUM™-ION HIGH OUTPUT™ 6.0Ah Battery Pack, the M18 FUEL™ Angle Grinders can provide up to 135 cuts per charge in 12.7 mm (½") rebar. Users can get an entire day's work. The new M18 FUEL™ Grinders are fully compatible with the entire M18™ line, now offering more than 120 solutions on one battery system.
For ease of use, these grinders feature tool-free adjustable guards and the FIXTEC™ Nut system allows for tool-free accessory changes with quick release which reduces the amount of time to remove and fasten tight cutting and grinding discs to angle grinders.
M18 FUEL™ is engineered for the most demanding trades in the world, with these grinders built for industrial and construction applications. Remove weld beads and lumps; cut rebar, threaded rods, corrugated iron and fencing; and bevel pipe and other materials.
These angle grinders are suitable for professionals in fabrication, heavy machinery repair, fencing and roof installation.
Book in a visit with the Milwaukee Job Site Solutions (JSS) team to try the next generation M18 FUEL™ angle grinders at milwaukeetool.com.au