Get ready for houses made of rubbish as processes to turn waste into valuable building materials hit new strides. John Burfitt reports.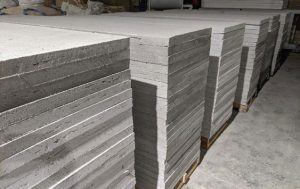 When it comes to the topic of waste in the building industry, Sophia Hamblin Wang is the first to admit discarded materials have something of an image problem.
But Hamblin Wang, of the Canberra based carbon engineering technology initiative Mineral Carbonation International (MCi), is on a mission with a plan that could assist the construction industry and do its bit for the environment at the same time.
MCi has developed a platform to help decarbonise industries like steel, cement, chemicals, manufacturing and mining, with a solution that does not require a price on carbon, offsets or subsidies. MCi has established processes that take waste material from various sources and turns them into building materials like cements and plaster boards.
Earlier this year, Hamblin Wang was a guest speaker at the World Economic Forum in Switzerland, where her presentation on the 'Building a New Carbon Economy' panel proved to be something of a game changer.
"I spoke about how there's an opportunity to change our perceptions about waste, seeing it as a valuable resource rather than something we need to discard," she says. "Carbon dioxide is a resource and as soon as we see it as something that can be turned into a valuable product, then we will unlock so much innovation potential." She says one encouraging result of her talk at the forum was that many business leaders agreed with her point and that a spirited discussion followed. "So, we're getting there with this change, one bit at a time," she adds.
According to the Federal Government's Department of Industry, Science, Energy and Resources, about seven million tonnes—or 35 per cent—of building waste goes into landfill each year in Australia.
MCi has spent almost $20 million researching various recycling processes, as well as partnered with the steel, cement and chemical industries, to explore the ways their waste can be turned into new materials.
One example is how waste such as steel slag can be utilised. The slag is collected, passed through a reactor with emissions from a nearby plant, and then passed through a mineral carbonation facility that binds the CO₂ into the slag to create a powdered material. That powder can then be used in supplies like particle board and cement.
"This is a huge market, and a market Australia is well-placed with our resource process capabilities to be world leaders in," Hamblin Wang says. She estimates the global market demand for CO₂ products last year was worth around $US5.9 trillion, with $US1.3 trillion of that cement products.
Melbourne building company Casafico has been supplying recycled materials to the Australian construction market for the past 15 years, with such products as coatings, base coats, renders and wall panels.
"We moved into this area because we saw how much construction waste was going into landfill, especially material like polystyrene which doesn't decompose and is a nightmare once it's in landfill," Casafico's Sam Mucci says.
"But it goes beyond just being a better way to use waste. A lot of builders have told us they like the products as they're lighter, faster and easier to use. The fact they are also environmentally friendly was the bonus."
Casafico uses processes like crushing polystyrene, grinding glass, grinding newspapers and shredding carpet scraps, all of which is then manufactured into coatings, renders, mouldings and insulated wall panels. The company recently completed construction on a townhouse complex in Melbourne that was built using their own products and proved to be a valuable test case of what can be achieved in reducing waste.
"For every square of each house, we were able to save one cubic metre of rubbish that would normally be left over," managing director Ric Mucci says. "As there were 20 squares to each house, that was a saving of 20 cubic metres of waste that would have gone into landfill."
The success of this project has inspired future plans for the company in producing ready-to-assemble housing. "We are aiming for our products to work in unison so we can ship out fully completed little homes made entirely out of waste resources," he says. "These will be very high quality with extremely high fire and thermal ratings, and using materials we know no-one will have problems with in the long-term, so builders can maintain their warranties without any fear."
Convincing builders of the quality of recycled materials, however, remains a major issue, Ric Mucci admits. "There isn't enough history yet, but business is growing year on year," he says. "The builders and other trades we supply to keep coming back as they like the products, what they stand for and also that they're good to work with.
"Some people don't like change, but when the long-term proves that the builder can get the job done faster and easier and the customer has a long life on the product quality, that's when we will see conversations about using these materials really change." While some recycled products do cost slightly more than traditional products—often around 10 per cent—MCi's Sophia Hamblin Wang says that will change as more streamlined ways of processes are achieved.
"We know that anything we produce has to be as good and at the same price to succeed," she says. "Once we have new products coming through, it will be a matter of looking out for the low carbon option as a serious alternative to the usual choices."