Sutton Tools is pleased to announce a new partnership with Kelly Racing, as the team's official supplier of power tool accessories and industrial high-performance cutting tools.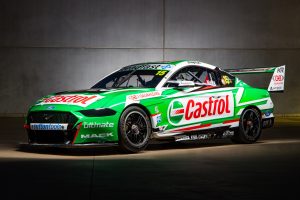 With the high-level of craftsmanship and the strict timeframes required to build and service the Kelly Racing Supercars and their components, high quality, reliable tools are essential to the Kelly Racing business. Sutton Tools' technicians understand the team's requirements and the intensity of competition in Supercars which make this partnership extremely valuable.
Like Kelly Racing, Sutton Tools is an Australian-owned family business that has grown to be at the cutting edge of its industry with state of the art facilities dedicated to producing the highest quality tools for manufacturers, tradies and DIY-ers. While Kelly Racing pushes the boundaries of performance on track with its Supercars, Sutton Tools pushes the boundaries of performance with high quality products for its customers at an affordable price.
The Sutton Tools branding will be positioned on the front bumper of both Kelly Racing Ford Mustangs driven by Rick Kelly and André Heimgartner, directly below the iconic pony badge in the car's front grille. Robert Sutton, Commercial Director Sutton Tools is pleased to partner with Kelly Racing, "Both organisations share a common passion in the field of engineering, the opportunity to work together in 2020 should bring about exciting results on and off the track!"
Todd Kelly, Director Kelly Racing is excited by the new partnership "It's great to partner with Sutton Tools who understand our requirements as a race team with the unique parts that we produce in our machine shop and throughout the whole business. We look forward to putting their high quality industrial-grade machine tools to good use with the production of plenty of new parts which will find their way onto our two new Ford Performance Mustangs."
Visit suttontools.com to learn more about our tapping tools for automotive manufacturing, or contact 1800 335 350, email cservice@suttontools.com to request a catalogue of the range.